NotePage SMS, Texting and Messaging Blogs


11/26/2013 Latest News from NotePage
New Version PageGate
There is a new point release available for PageGate, details of the updates can be seen in the PageGate release notes: https://www.notepage.net/release.htm

Tips for Using Cell Phones
While there are no specific, explicitly stated rules for how, when, and what one should text, there is undoubtedly an unspoken standard of what is appropriate and inappropriate to text. With texting's being an immensely popular and increasingly widespread means of communication, the value of understanding text messaging etiquette is growing increasingly important.
https://www.notepage.net/learning-center/tips-for-using-cell-phones.htm

Did You Know...

Did You Know PageGate Supports 16 Simultaneous Connections
If your message delivery times are starting to slow down and you're running in to a bottleneck with your messages, upgrading PageGate with additional connectors is a good way to alleviate the problem.
https://www.notepage.net/did-you-know-pagegate-supports-16-simultaneous-connections.htm

Did You Know PageGate Can Send Text Messages to Road Signs?
This is really useful for Public Safety Departments and Emergency Management Services! If your road signs can be configured to receive an email, text page or SMS message to update their message, PageGate can do it.
https://www.notepage.net/did-you-know-pagegate-can-send-messages-to-road-signs.htm

Did You Know PageGate Can Schedule Messages?
You can Configure a Message to Repeat at an interval or Configure a Single Message to go out at a Future Date
https://www.notepage.net/did-you-know-pagegate-can-schedule-messages.htm

Tips for PageGate Message Notification
If you own the GetMail module, you can configure PageGate to email you a notification any time a message succeeds or fails in the program. When a message is successfully delivered, PG looks for a file named successnotifylist.txt in the PG program folder.
https://www.notepage.net/pagegate-message-notification.htm

Integrate SolarWinds with NotePage's Software
To integrate Solarwinds Orion with PageGate, make sure the GetASCII module is installed and enabled, to allow Solarwinds to communicate with PageGate.
http://thwack.solarwinds.com/docs/DOC-170821

Humor!
SMS and text messaging cartoons!
https://www.notepage.net/sms-text-messaging-humor.htm

Social Media
NotePage has gone social, consider following us and liking us on Facebook, LinkedIn, Google+, Twitter and Pinterest.

Like us and follow NotePage on Facebook http://www.facebook.com/NotePageSoftware
Follow NotePage on LinkedIn http://www.linkedin.com/company/notepage-inc-
Follow NotePage on Twitter @NotePage http://twitter.com/notepage
Follow NotePage on Google+ - https://plus.google.com/110400228473964918698/posts
Follow NotePage on Pinterest
http://pinterest.com/notepage/sms-text-messaging-and-techie-cartoons-from-notepa/

Upgrade?
If you have not yet upgraded to PageGate v6 now is the time! The upgrade from PageGate version 5 for only $100.00, you can order online at http://sites.fastspring.com/notepage/product/6up be sure to have your 4-6 digit serial number ready when you order. We are also offering a limited time discount on Priority Support.
11/25/2013 Text Messaging Cartoon Poser Humor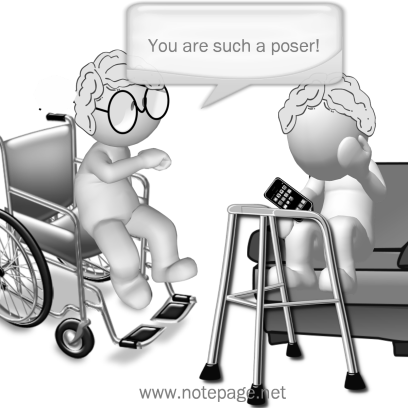 11/22/2013 86 Percent of College Students Text Message Throughout Class
Digital distraction is an issue involving an overwhelming amount of college students, with more than 90 percent of students admitting to using their cell phones, laptops and other devices for recreational purposes during class time.

A new study conducted by associate broadcasting professor Bernard McCoy of the University of Nebraska at Lincoln finds that less than 8 percent of all students did not get distracted by such devices in class.

complete article
11/21/2013 Texting Followup for Diabetics
A new study reports that automated daily text messages improved the followup care of patients seen in the Emergency Department for diabetes.

Researchers report the patients showed better medication adherence and better control of their diabetes.

complete article
11/17/2013 Text Messaging Saves Whale Shark
A text message saves a young whale shark that got tangled in a fishing net off the coast of Indonesia in the Java sea.

complete article
11/20/2013 Donate to Typhoon Victims via SMS
Major telecommunication providers are working together to provide a way for Malaysians to help the victims of Typhoon Haiyan in the Philippines.

complete article
11/19/2013 Self Destructing SMS? Really
I have to believe that a record of the message will remain in the logging or through the network it was sent.

PowerInbox, the email platform company which merged with competitor ActivePath a year ago, is today launching technology called SecretInk that enables self-destructing messages that can be sent over email or SMS. The system works online or inside Gmail and other webmail services using the companys PowerInbox add-on. This utility also enables other interactive email content from dozens of social networks, news sites, and more.

complete article
11/18/2013 Cellular Network Kill Switch
The US Department of Homeland Securitys ability to seek a shutdown of cellular and wireless networks in times of crisis, such as the potential of a remote detonation bomb threat isn't new. Exactly how and when that authority can be used, however, must be disclosed, thanks to a new ruling by a Washington, D.C.-based court.

The US District Court for the District of Columbia has rejected Homeland Securitys argument that its reasoning and protocols for the so-called kill switch were exempt from public disclosure.

complete article
10/31/2013 Did You Know PageGate Can Be Configured for 2 Way?
PageGate can use a cellular modem to send SMS messages directly to cell phones and the recipients can reply to the message. PageGate can then take the replies and forward them wherever you want them to go.

Did You Know PageGate Can Be Configured for 2 Way?
10/30/2013 Great List of SMTP Settings
Are you sending SMS or text messages using SMTP? Checkout this comprehensive list of SMS Carrier settings.