NotePage SMS, Texting and Messaging Blogs


03/28/2013 I Work on the Internet Cartoon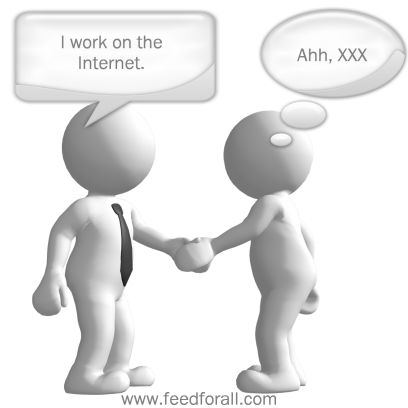 I work on the Internet Cartoon.
03/27/2013 Hated Text Messaging Habits
Text messaging has taken its place as the front runner for most communication that takes place these days. Most of us put our thumbs to good use long before we even consider giving our vocal cords some exercise. And like almost everything else people have found their own specific texting style which shines through their texts.

Mobistealth has painted a fun picture of text messaging with texters it thinks are the most common these days. Which one of these texters do you know?

complete article
03/25/2013 Logging of Private Text Messages
In a hearing before the House Judiciary Subcommittee Tuesday, a panel of technology law experts called on Congress to pass legislation mandating the long-term retention of every Americans text messages and emails in case of a future criminal investigation.

complete article
03/20/2013 Charging Your Cell Phone with a Text Message
People who are living off the grid can pay for electricity to charge their cellphone by sending a text message, which is the cheapest method found so far.

According to Times Of India, Buffalo Grid, a London-based company, has introduced a solar-powered cellphone charging station, and it is activated by text message.

complete article
03/19/2013 Texts You Should Never Send
Whether your ex has started seeing someone else or not, here are a few texts he must never receive from you. In the interest of sanity; his and yours:

1) The lovelorn text: I still love or miss you
Why not? People love to hear that, goes the common counterargument. Maybe, but it is not a good idea in the ex zone, unless there are chances of a reconciliation. If even one of you is in a relationship again, such texts are a huge no-no.

complete article
03/15/2013 College Counseling Cartoon
03/14/2013 Did You Know PageGate Can Send to Twitter?
Did you know PageGate can be used to send text messages to Twitter? Learn More
03/14/2013 Interestingly Android Users Use Phone Less
Android Users Have Notably Lower Mobile Voice And SMS Consumption Than iPhone Use..
03/13/2013 Women Use Mobile Apps for Safety
With the gruesome Delhi gang-rape fresh in their minds, girls and women are using mobile apps to ensure their own safety and let family and friends know their location.

Many women, armed with the latest smartphones, have downloaded free apps that provide location services to family and friends at the click of a few buttons or touch-screen manoeuvres.

complete article
03/12/2013 TB Patients Get Text Message Notifications When They Miss a Does
In India the Union Health Ministry is strengthening its online tuberculosis monitoring system by sending SMS alerts to the patients if they miss a dose of their medication.

complete article
03/07/2013 It Works for Divorce Cartoon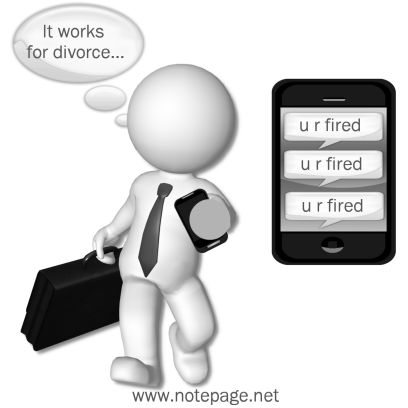 03/06/2013 Air Writing System Converts to Text Messages
The GKITs airwriting glove system allows the person wearing the device to draw letters in the air as if they are wearing a pen. The system can recognize the letters that are being drawn in the air and convert them into text which can then be put into emails, text messages or any other mobile application.glove system allows the person wearing the device to draw letters in the air as if they are wearing a pen. The system can recognize the letters that are being drawn in the air and convert them into text which can then be put into emails, text messages or any other mobile application.

complete article
03/05/2013 Motivational Text Messages Help Smokers Quit
Motivational text messages sent to smokers mobile phones can double their chances of giving up tobacco, reported The Guardian.

The story is based on a large UK study that looked at whether a six-month programme of supportive text messages could help smokers quit. It compared a group who received positive messages to another group who were given details of other support programmes. At six months, those receiving texts were twice as likely to quit, with a quitting rate of 10.7% compared to the other groups rate of 4.9%.

complete article
03/04/2013 NotePage News
Welcome to NotePage news. If preferred this newsletter can also be viewed online at: https://www.notepage.net/newsletter-02-14-2013.htm

PageGate v6 is now available!
The host of new features includes: basic two way support for cellular modems, support for newer operating systems, and improved support for USB devices. A complete list of the enhancements can be found at https://www.notepage.net/release.htm

PageGate can be downloaded from https://www.notepage.net/download/pgsetup.exe

Upgrades are free to all customers who have purchased PageGate within the last 90 days email us your existing 4-6 digit serial number and your order number, and we will email you back an updated keycode. If you are unsure of your purchase date, please contact us at sales@notepage.com and we will help you figure it out.

Upgrades are also free to all Priority Support customers, if you are current with support simply email us your existing 4-6 digit serial number to receive a key for the new version.

All other customers can upgrade from PageGate version 5 for only $100.00, you can order online at http://sites.fastspring.com/notepage/product/6up be sure to have your 4-6 digit serial number ready when you order. We are also offering a limited time discount on Priority Support. Annual Priority Support can be purchased for only $295.00 ($100.00 off the normal price if purchased at the same time of the v6 upgrade).

Social Media
NotePage has gone social, consider following us and liking us on Facebook, LinkedIn, Google+ and Twitter.

Like us and follow NotePage on Facebook http://www.facebook.com/NotePageSoftware

Follow NotePage on LinkedIn http://www.linkedin.com/company/notepage-inc-

Follow NotePage on Twitter @NotePage http://twitter.com/notepage

Follow NotePage on Google+ - https://plus.google.com/110400228473964918698/posts

Top Telecom Carrier Settings
Checkout the quick list of settings to send text messages using the top Telecom Carriers https://www.notepage.net/top-carrier-settings-for-sending-messages.htm

Did You Know Series
Have you explored PageGate's full potential? There are many incredibly useful features of PageGate that do not get a lot of visibility. These articles are dedicated to changing that because, really, who does not like neat features?
https://www.notepage.net/did-you-know-pagegate.htm

Integration
Integrate a SCADA system with PageGate software to send alarm messages to cell phones, smartphones or pagers using dial-up modems, an in-house paging terminal or cellular modems. Respond quickly when monitoring water and wastewater treatment, oil and gas pipelines, flood control systems, electrical power transmission, wind farms, and large communication systems.

Help Us Go Green
When placing an order please be sure we have a current email addresses for your receivables department and we will automatically email the invoice immediately after your order is processed!
02/28/2013 Another Text Messaging Health Project
Project HOPE and Bristol-Myers Squibb Foundation have teamed up to implement a text messaging program in Mexico City that will help educate low-income pregnant women and new mothers about gestational diabetes.

complete article
02/27/2013 Driving Alerts Sent via SMS to Tourists in Dubai
The Dubai Tourism Board is considering to educate Saudi tourists on traffic laws in the UAE following violations by Saudi drivers.

complete article
02/26/2013 Text Messaging May Be at the Heart of The Blade Runner Case
African rugby player, Francois Hougaard, who may or may not have once dated the woman Oscar Pistorius shot and killed, Reeva Steenkamp. According to one report, Pistorius and Steenkamp were fighting over a text message from Hougaard early Thursday morning, shortly before her death.

complete article