NotePage SMS, Texting and Messaging Blogs


10/31/2013 Did You Know PageGate Can Be Configured for 2 Way?
PageGate can use a cellular modem to send SMS messages directly to cell phones and the recipients can reply to the message. PageGate can then take the replies and forward them wherever you want them to go.

Did You Know PageGate Can Be Configured for 2 Way?
10/30/2013 Great List of SMTP Settings
Are you sending SMS or text messages using SMTP? Checkout this comprehensive list of SMS Carrier settings.
10/29/2013 Report Electricity Complaints via SMS in India
Electricity consumers in Haryana will be able to register complaints related to power supply, billing and connections, and get information about the status of their complaints via short message service-SMS. The facility is likely to be provided from November 1.

complete article
10/28/2013 Twitter Alerts via Text Message
Twitter is launching an alerts feature that lets U.S. users receive emergency notices as text messages.

Alerts are available from the American Red Cross, the Centers for Disease Control, the Federal Emergency Management Agency and other federal and local groups.

complete article
10/25/2013 Report Crimes or Suspicious Activity on Amtrak via Text Message
Amtrak announced a text messaging hotline APD11 that is affiliated with its police department to report suspicious bags, criminal activity and emergencies. After you text your complaint, you will receive a return message that connects you with a dispatcher so you can communicate further in reporting how that gaudy knock-off Louis Vuitton duffel is bothering you.

complete article
10/23/2013 Terrifying Text Message Sent From Crippled Plane
It is a text message that will make your blood run cold. It reads:

I love you... make sure my kids know that forever... problem in the plane... full of smoke.

complete article
10/21/2013 Birth Advice via Text Message
In one of Kenyas poorest slums a health center is sending life-saving advice to pregnant women.

complete article
10/11/2013 Dance Partner Texting Cartoon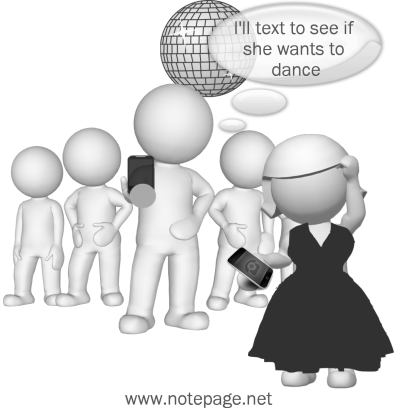 10/09/2013 Texting Falls for the First Time in the US
With a growing number of Americans carrying Internet-connected smartphones in their pockets, text messaging is on the decline. The average number of monthly texts sent by each user fell for the first time in U.S. history last quarter, according to a report released Tuesday by independent telecommunications analyst Chetan Sharma.

complete article
10/07/2013 Texting the Source of Sleep Issues?
Exhausted college students should consider their smartphone habits, according to a new study that links heavy texting with sleep problems.

Researchers from Washington and Lee University in Virginia discovered that among first-year students, those who sent the most text messages had the poorest sleep habits and lowest levels of emotional well-being.

complete article
09/19/2013 Phone Rules Contract for Parents
Owning and using a phone requires a level of responsibility. With this responsibility, however, comes more opportunities to make mistakes, and greater accountability for those mistakes. If your child is receiving their first phone or first smartphone, show them the following set of rules to make sure that they know your role in their use of the phone, understand what appropriate phone etiquette and conduct is, and will use their phones responsibly.

Cell Phone Rules Contract for Parents