NotePage SMS, Paging and Messaging Blogs


11/27/2008 Free Shipping on All CD Orders
NotePage, Inc. never charges for shipping! Order a NotePager Pro CD for a holiday gift and it will ship free of charge.
11/26/2008 New Packaging for NotePage Software
We have updated all the packaging on the NotePage Product line. Check out the slick new DVD cases.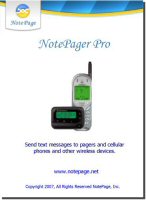 11/26/2008 Cellular Psychology
A Japanese professor on Wednesday launched what he said was the worlds first web-based psychotherapy sessions available via mobile phone, as the country grapples with a growing problem of depression.

The interactive service offers cognitive therapy sessions that identify a persons level of depression by asking questions about his or her sleeping and eating habits, weight change, and emotional well-being.

Using their mobile phones -- which are also widely substituted in Japan as wallets, train tickets, books, and television -- people can easily access the service.

complete article
11/25/2008 Rating Cellular Chargers
The worlds top five cellphone makers launched on Wednesday a common energy rating system for chargers, making it easier for consumers to compare and choose the ones consuming the least energy, Nokia said.

The new rating system is a cellphone industry response to heavy criticism from environmentalists. The industry has become the worlds top consumer electronics business by volume.
11/24/2008 Obamas Cell Records
Verizon Wireless has fired several employees who improperly accessed Barack Obamas cell phone records, which may have included billing data revealing who the president elect spoke with, and when.

The mobile in question was not the Blackberry that Obama is reluctantly giving up when he moves into the White House, but a plain-vanilla flip phone that had been inactive for several months. Neither e-mails nor the contents of any calls would have been exposed, but the account information may have included the type of list of incoming and outgoing calls, with their times and durations, found on a monthly billing statement.

complete article
11/19/2008 iPhone Growing
The iPhone is emerging as king of the corporate world as global shipments of smartphones reached a new peak. Defying speculation about a global recession, worldwide smartphone shipments climbed to just shy of 40 million units in the third quarter, according to the latest estimates from Canalys. That means smartphones now represent about 13 percent of the total mobile-phone market, up from 11 percent in the second quarter.
11/18/2008 Texting While Driving
Tapping out text messages on a cell phone while driving is dangerous, the American Medical Association agreed on Monday, and supported state legislation to ban it.
The group, which represents about 240,000 U.S. physicians, voted to lend its weight to laws that would make it easier for police to pull over drivers who are doing it.
11/17/2008 Cell Phone Tickets
Forget e-tickets. Going paperless is the next wrinkle in air travel as American Airlines tests mobile boarding passes at OHare International Airport.

Travelers on American can flash a bar code on their cell phone screens to board flights and get through security checkpoints at OHare using new technology rolled out Thursday.

To use the feature, passengers must have an active e-mail address and an Internet-enabled mobile device to which their boarding pass and a 2-D bar code can be sent.

complete article
11/04/2008 Telecom Carrier Settings Updated
We have made an effort to update many of the Telecom carrier settings see the updates for SNPP, WCTP, TAP and SMTP settings. Let us know if you have any suggested additions.
11/03/2008 Verizon Must Sell Assets in Alltel Deal
The Justice Department on Thursday effectively gave Verizon Wireless the go-ahead to buy Alltel Corp. in a $28 billion deal that would create the nations largest wireless carrier.

Verizon Wireless, a joint venture between Verizon Communications Inc. and Britains Vodafone Group PLC, already has agreed to the governments condition that it sell assets in 22 states.

complete article
10/27/2008 RIM Application Store
Research in Motion is coming online with an application store uniquely its own. On Tuesday, RIM unveiled two distribution initiatives for BlackBerry smartphone applications at its annual developer conference: A new online application store and a new on-device application center that opens up BlackBerrys millions of users to developers vying for an audience.

RIM said it plans to launch the BlackBerry application store in March 2009, giving its users a one-stop shop for compatible applications and a user-friendly way to manage upgrades and purchases.

complete article
10/27/2008 Texts Tackle HIV in South Africa
The popularity of mobile phones in South Africa is helping to tackle HIV and AIDS in the nation.

Project Masiluleke will send one million free text messages a day to push people to be tested and treated.

Approximately 350,000 people die of AIDS related diseases in the country every year.

Trials of the system showed that calls to counselors at the National AIDS helpline in Johannesburg increased by 200% when messages were broadcast.

complete article
10/22/2008 Tracking Terrorists Using Mobile Phones
Taliban insurgents said Tuesday they had told mobile phone operators to shut down their networks during the day in the Ghazni province, southwest of Kabul, saying signals help track insurgent fighters.

The warning comes on top of a Taliban order earlier this year for phone operators to turn off their networks throughout the country at night.

complete article
Archive of Blogs:
Current Blog | Blog Feed -



2008
November Blog
October Blog
September Blog
August Blog
July Blog
May-June Blog
March Blog
February Blog
January Blog


2007
December Blog
November Blog
October 2007 Blog
September 2007 Blog
August 2007 Blog
July 2007 Blog
June 2007 Blog
May 2007 Blog
April 2007 Blog
March 2007 Blog
February 2007 Blog
January 2007 Blog

2006
December 2006 Blog
November 2006 Blog
October 2006 Blog
September 2006 Blog
August 2006 Blog
July 2006 Blog
June 2006 Blog
May 2006 Blog
April 2006 Blog
March 2006 Blog
February 2006 Blog
January 2006 Blog
2005
December 2005 Blog
November 2005 Blog
October 2005 Blog
September 2005 Blog
August 2005 Blog
July 2005 Blog
June 2005 Blog
May 2005 Blog
April 2005 Blog
March 2005 Blog
February 2005 Blog
January 2005 Blog

2004
December 2004 Blog
November 2004 Blog
October 2004 Blog
September 2004 Blog
August 2004 Blog
June 2004 Blog
May 2004 Blog
April 2004 Blog
March 2004 Blog
February 2004
January 2004

2003
December 2003