NotePage SMS, Texting and Messaging Blogs


05/29/2013 Google Shuts Down SMS Search
After trying to perform searches via Google SMS Search last week, many users discovered that the mobile search service had been discontinued.

complete article
05/28/2013 Pacemaker Sends Text if You Miss a Beat
This pacemaker sends SMS to doctor if you miss a beat.

Cardiologists say if the first golden hour is not lost in the case of a heart attack, the patient can be saved. Even those who have an implanted pacemaker run the risk of casualty in case an abnormality occurs. There's now available on the market a pacemaker that saves the 'golden hour' as it electronically alerts the patient's doctor to the emergency within minutes.

The device works on the technology of a cellphone. These new pacemakers are fitted with transmitters that may be a hand-held device or placed within a room. As soon as the patients pulse rate goes down or any other emergency happens, the signal is electronically transferred to the transmitter or modem by the pacemaker through electromagnetic rays.

complete article
05/27/2013 Treating Asthma With Text Messages
Pediatric asthma patients who received a daily text message asking about their symptoms or providing information about the ailment demonstrated improved pulmonary function and a better understanding of their condition within four months, say researchers from the Georgia Institute of Technology in a new study.

complete article
05/24/2013 Are Americans Tired of Texting
Text messaging in the U.S. is on the decline, according to a survey released Thursday by CTIA-The Wireless Association. The numbers of SMS text messages sent and received nationally dropped from 2.3 trillion in 2011 to 2.19 trillion in 2012.

While 2.19 trillion may seem like a colossal number and not much less than 2.3 trillion, it is still nearly a 5 percent drop.

complete article
05/23/2013 Maternity Care Via Text Message
An innovative program combining maternity advice and mobile phones is launching in South Africa, and could affect the lives of millions of mothers and babies. The service has already been launched in Bangladesh, and will soon come to India.

Why not use mobile technology to give health information to plugged-in women, who often hold a child in one hand and a phone in the other?

complete article
05/22/2013 Text Messaging Faux Paus
Texting is a huge part of our relationships. It makes communication quick and easy, whether we are messaging our partners, family members, and even blind dates. Except, once you hit send there is no going back.

From inappropriate autocorrects to accidentally texting the wrong person, we've all been there. But have yours been this bad?

complete article
05/21/2013 Adopt a Text Baby
DoSomething.org wants to make it easier for high school students to understand just how hard it is to be a teen parent -- and they are doing it through asking teens to adopt a text baby.

complete article
05/20/2013 Flying By Text Message
The world talks by texting, and now air-traffic controllers and pilots across Canada are sending each other text messages to speed up flights, reduce delays and boost safety.

complete article
05/13/2013 Did You Know PageGate Can Send to Road Signs?
This is really useful for Public Safety Departments and Emergency Management Services! If your road signs can be configured to receive an email, text page or SMS message to update their message, PageGate can do it.

Did You Know PageGate Can Send Text Messages to Road Signs?
05/11/2013 Text Messages Send Hope and Save Lives
The British Red Cross is using innovative mobile phone technology to save lives with location-based messaging in Sierra Leone.

At the touch of a button, the SMS system – called the Trilogy Emergency Relief Application – can reach 36,000 people in a specific location within an hour.

This April, the Red Cross and its telecommunications partner Airtel began using the system to reach around one million Sierra Leoneans with warnings about impending disasters, such as floods and outbreaks of disease, in the first month.

complete article
05/10/2013 Point Release for PageGate
There is a minor point release available for PageGate. The most recent version is 6.0.5 details of the updates can be seen in the release notes.
05/09/2013 Issues Regarding Windstream and Verizon
Verizon has blacklisted Windstream and is no longer accepting messages from anyone on Windstreams IP address or SMTP Servers. Unfortunately, there is nothing that can directly be done to fix that unless you have access to your own Exchange or other SMTP Server.

Additional Details Windstream and Verizon
05/06/2013 Latest NotePage SMS and Text Messaging News
Humor!
SMS and text messaging cartoons!
https://www.notepage.net/sms-text-messaging-humor.htm

How GroundProbe is Using PageGate
The integration of GroundProbe's mine slop monitoring radar and NotePage's SMS text messaging software provide early warning for the safe evacuation of people and equipment in case of a wall collapse or changes at the mine. Groups of people onsite and offsite can be alerted on their mobile phones and smartphones to any hazards. The integration of Gmonitoring solutions with NotePage software allows staff to be alerted make quick decisions. Having been alerted, mine staff can then assess the risks. https://www.notepage.net/groundprobe.htm

Did You Know PageGate...

Did you know that PageGate can integrate with most Nurse Call stations and alarm panels?
Most Nurse Call Stations and Alarm Panels have a serial output. You can use PageGate's GetSerial module to read in the data from the Call Station or Alarm panel and translate that in to an email, SMS to a cell phone, page to a pager or any combination of the three!

Did you know that PageGate can help save lives?
PageGate can be tied in to computer automated dispatching systems in police departments, fire departments and hospitals, decreasing the amount of time it takes before an emergency responder is made aware of an issue. Almost every CAD system has at least one of the thirteen different data types you can use to tell PageGate to send SMS, pages or email and is an invaluable tool for most Emergency Management Agency.
Did You Know PageGate - https://www.notepage.net/did-you-know-pagegate.htm

NotePage Now on Pinterest
Follow NotePage on Pinterest
http://pinterest.com/notepage/sms-text-messaging-and-techie-cartoons-from-notepa/

Upgrade?
If you have not yet upgraded to PageGate v6 now is the time! The upgrade from PageGate version 5 for only $100.00, you can order online at http://sites.fastspring.com/notepage/product/6up be sure to have your 4-6 digit serial number ready when you order. We are also offering a limited time discount on Priority Support. Annual Priority Support can be purchased for only $295.00 ($100.00 off the normal price if purchased at the same time of the v6 upgrade).

Social Media
NotePage has gone social, consider following us and liking us on Facebook, LinkedIn, Google+ and Twitter.

Like us and follow NotePage on Facebook http://www.facebook.com/NotePageSoftware
Follow NotePage on LinkedIn http://www.linkedin.com/company/notepage-inc-
Follow NotePage on Twitter @NotePage http://twitter.com/notepage
Follow NotePage on Google+ - https://plus.google.com/110400228473964918698/posts

Green Tip!
Nix the screen saver, a screen saver does not save energy it infact uses energy and will often prevent a computer from going into it sleep mode.

NotePage News




05/04/2013 Cell Phone Manners Cartoon
05/03/2013 CDC to Study Text Messaging
The Centers for Disease Control and Prevention will pilot test the efficacy of using basic text messages via mobile phones and Web-based messages via smartphones in public health surveillance for programs such as smoking cessation, according to a notice published in the Federal Register.

The pilot will compare results of the mobile phone survey with those from an older survey method, computer-assisted telephone (call center) interviewing, the CDC announcement said.

complete article
05/02/2013 Text Messaging and Medicine
At St. Gabriels Hospital in Malawi, for example, 75 community health workers were trained to use text messages to communicate patient information, appointment reminders, and other health-related notifications to patients. Through this mobile health, or mHealth, initiative, the hospital saved approximately 2,048 hours of worker time and $3,000 in fuel, while doubling the capacity of the tuberculosis treatment program.

complete article
05/01/2013 Comcast Setting Changes
Comcast has recently made a change to their internet service that will require you to update your settings in NotePager Pro and PageGate. These will be your new SMTP Settings:

SMTP Server: smtp.comcast.net
Port: 587
Authentication: LOGIN or PLAIN, use your full Comcast Email address and password.
04/29/2013 Lawyers May Use Text Messages to Solicit Businesses
Ohio ethics rules permit lawyers to use text messages to solicit employment from prospective clients so long as they comply with certain standards that regulate the content of such communications and with several potentially applicable laws, the Ohio Supreme Courts ethics board advised April 5

complete article
04/25/2013 911 How Can I Help Cartoon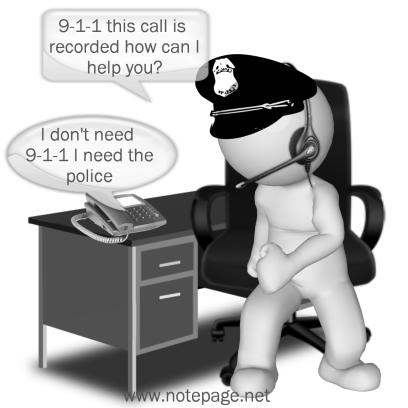 911 How Can I Help Cartoon