PageGate
full-featured SMS server gateway software application for networks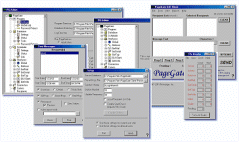 PageGate is an SMS messaging server application that sends SMS and text messages to: mobile phones, cell phones and other wireless devices. Messages can be sent a variety of different ways including: networked computers, e-mail, Internet web pages, command line executables, text files, a serial port, from within other applications and a host of other methods. Messages can be sent to the telecom provider via: the Internet (SNPP, WCTP, SMTP), modems (TAP, UCP, GSM, TONE), or direct serial connections (TAP).
PageGate is a high capacity software application, with built in redundancy and fail over capabilities ensuring that urgent text messages are sent in a timely manner.
NotePager Pro
text messaging software solution for standalone computers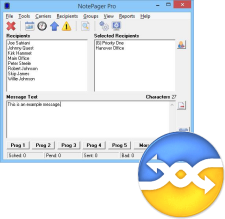 NotePager Pro sends text or SMS messages to wireless devices, mobile phones, and cell phones using an easy to use desktop application. NotePager Pro sends SMS messages or text messages through an Internet connection, modem or a cellular modem.
NotePager Pro supports group messaging, pre-programmed messages and scheduled messaging. Send SMS to anyone, anywhere, any time!
NotePage Android SMS Gateway
android phones can simulate wireless modems for sending text messages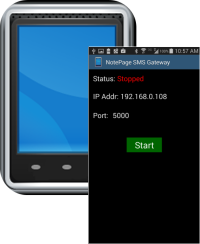 The NotePage Android SMS Gateway allows an Android phone to simulate a wireless modem. Wireless modems, are an excellent option for message delivery. Now any Android phone can be used as a wireless modem with PageGate and NotePager Pro.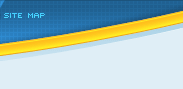 [07.08.2022]
NEW PageGate v10 is Now Available
PageGate v10 includes a number of new features and benefits, including enhanced two way messaging capabilities, optional support for SQL Databases and a host of other enhancements.

Learn What is New




[03.22.2022]
NEW Changes for SMTP Delivery
Due to the large volume of spam messages being sent using SMTP, many of the Carriers have implemented anti-spam protocols which are impacting legitimate messages being sent using Email delivery. As a result the carriers public Email-to-SMS gateways are no longer reliable for moderate or high volume environments and should not be used on systems planning to send more than 250 messages per day. Contact us to discuss alternative delivery methods!

Discuss Options




[12.20.2021]
NEW Statement on Log4j Vulnerability
We would like to assure our customers that the newly publicized Log4Shell 0-day exploit does not effect any of our products. We do not use any of the effected libraries.




[02.07.2019]
Filter Pack Increases Flexibility and Power
The Filter Pack allows for integrated communications and brings text messaging to a whole new level.




[11.03.2015]
Educational Articles on SMS
Great series of new articles added to the Education Section:




[07.23.2015]
NotePager Pro v5
NotePager Pro version 5 is now available:




[01.31.2015]
Verizon is Discontinuing TAP
Verizon is discontinuing support for TAP:




[03.24.13]
Text Messaging Cartoons
Need a laugh? Checkout some text messaging cartoons and techie humor!




[04.18.12]
Orion Integration Video
Video tutorial steps customers through integrating SolarWinds Orion and PageGate to send network alerts to cell phones and wireless devices.




[01.30.12]
PRTG Integration Video
Video tutorial that walks visitors through the process of integration PRTG network monitoring software and PageGate to send alerts to mobile phones.




[2.03.10]
SMS Learning Center Launched
The SMS and text messaging center includes interactive video tutorials, educational articles and support resources all pertinent to the sending of text and SMS messages.