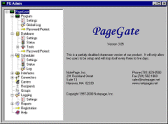 PageGate is a modular text messaging gateway that allows for messaging a variety of ways. SMS messages or text alerts can be sent from workstations on a network, via web pages or from within existing proprietary applications. PageGate is frequently used by airlines and airports to communicate flight delays, weather alerts or other information that may impact a passengers travel plans.
PageGate is modular and can be scaled to meet the size of any airport or airline.

PageGate is agnostic, and can send text messages to anyone, anywhere, on any device, at any time.


Airports and airlines use text messaging to improve customer relations by communicating delays and other issues with customers and employees. A timely response can often mean the difference between a happy customer and a dissatisfied customer.

The benefits of PageGate include:
Seamless Integration with Almost Any Existing Software
Detailed Real-time Monitoring and Logging
Accountability with an Audit Trail
Increase the Speed of Incident Resolution
Built-in Redundancy and Failover Capabilities
Immediate Critical Notifications
Modular and Scaleable for Any Size Airport or Airline
Message Prioritization
Support for Group Messaging
Support for On-Call Groups
Support for Repeating Messages
Support for Message Scheduling and Holding
Support for a Variety of Communication Protocols
Send to Anyone, Anywhere, Anytime