PageGate
full-featured SMS server gateway software application for networks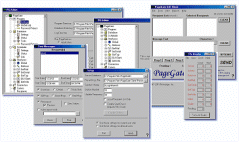 Windows 2000, XP, 2003, Vista (32 bit), Windows 7, Server 2008 (64-bit), Server 2008 R2,

PageGate is an SMS messaging server application that sends SMS and text messages to: mobile phones, cell phones and other wireless devices. Messages can be sent a variety of different ways including: networked computers, e-mail, Internet web pages, commandline executables, text files, a serial port, and from within other applications. Messages can be sent to the telecom provider via: the Internet (SNPP, WCTP, SMTP), modems (TAP, UCP, GSM, TONE), or direct serial connections (TAP).
PageGate is a high capacity application, with built in redundancy and failover capabilities ensuring that urgent text messages are sent in a timely manner.
NotePager Pro
text messaging software solution for standalone computers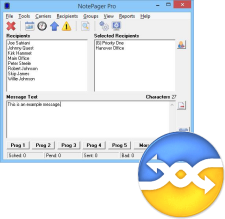 NotePager Pro sends text or SMS messages to wireless devices, mobile phones, and cell phones using an easy to use desktop application. NotePager Pro sends SMS messages or text messages through an Internet connection, modem or a cellular modem.
NotePager Pro supports group messaging, pre-programmed messages and scheduled messaging. Send SMS to anyone, anywhere, any time!
Google+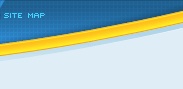 [07.23.2015]


NEW NotePager Pro v5

NotePager Pro version 5 is now available:




[01.31.2015]


Verizon is Discontinuing TAP

Verizon is discontinuing support for TAP:




[06.02.14]


PageGate v7 is Available!

Check out what is new in the latest version of PageGate:




[02.11.14]


10 Things Your Phone Can Do in an Emergency

We have compiled a list of 10 things your phone can do in an emergency to shed light on this exciting and important realm of development:




[01.12.14]


Phone Contracts for Parents

Owning and using a mobile phone requires a level of responsibility. With this responsibility, however, comes more opportunities to make mistakes, and greater accountability for those mistakes.




[03.24.13]


Text Messaging Cartoons

Need a laugh? Checkout some text messaging cartoons and techie humor!




[11.05.12]


NotePage on Social Media

Follow and like NotePage, Inc. on social media channels including: LinkedIn, Facebook and Twitter.




[04.18.12]


Orion Integration Video

Video tutorial steps customers through integrating SolarWinds Orion and PageGate to send network alerts to cell phones and wirleess devices.




[01.30.12]


PRTG Integration Video

Video tutorial that walks visitors through the process of integration PRTG network monitoring software and PageGate to send alerts to mobile phones.




[2.03.10]


SMS Learning Center Launched

The SMS and text messaging center includes interactive video tutorials, educational articles and support resources all pertinent to the sending of text and SMS messages.




[12.01.09]


SMS Video Tutorials

Video tutorials that walk users through setup and features in NotePager Pro and PageGate.




[10.16.09]


NotePage Green Efforts

NotePage is an eco-friendly business. In recent years, we have made a number of changes in an effort to become a more environmentally-friendly and conscientious business.