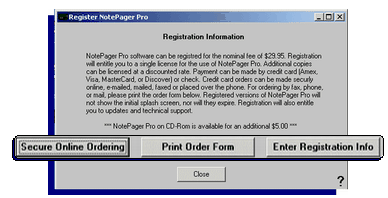 Secure Online Ordering -click the secure online ordering button to order online using a credit card.
Print Order Form - clicking the "Print Order Form" button will print a form, that can be mailed with a check, credit information or faxed in to NotePage.
Enter Registration
Info - Once you receive your registration information via email from NotePage you will need to type the registration information into NotePager Pro. Click the "Enter Registration Info" button in order to begin the process.