This section controls how GetMail implements AdHoc Email. The interface can handle Ad-Hoc email in two ways, both of which can be used separately or together.
• The first method is to accept email addressed to the ID/PIN number that the message should use for delivery (i.e. 1234567@pagingserver.com).
•The second method is to have the Ad-Hoc Email function accept incoming email with the ID/PIN numbers of the intended destination device on the subject line.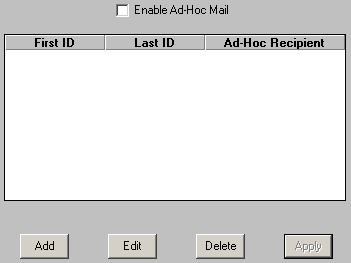 | | |
| --- | --- |
| Button | Function |
| Enable Ad-Hoc Mail | Enables the use of Ad-Hoc ranges for email processing. |
| Add | Adds a new Ad-Hoc range. |
| Edit | Edits an existing Ad-Hoc range. |
| Delete | Removes an existing Ad-Hoc range |
| Apply | Applies updates made to the |