The Database section is where any database related settings and functions, like how much information to store in the database or synchronizing multiple PageGate servers, are configured.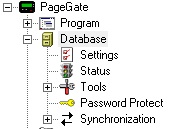 This section controls message retention and archiving options.
This section displays relevant information about the database, including file size.
This section allows you to import and export recipients as well as rebuild the database in the event of corruption.
This section allows you to password protect the PageGate databases.
This section allows you to configure multiple PageGate servers to synchronize their data with each other.
Right clicking on Database will provide a context menu to Zip the database.

This will create a compressed file named pagegate.mdb.zip output in the PageGate database directory and is useful in the event that you need to email your database to Tech Support or for backup purposes.