NOTE: Modifications to a recipient's name are not picked up by the global PageGate Server's processes until the services are cycled. Any time you make a modification to a recipient's name, be sure to stop and start the PageGate service so the change can propagate out to the sub-modules.
When using the Rename context menu option, you will see a dialog like this: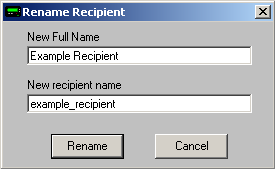 The Rename function, as its name indicates, allows you to give a recipient a new Full Name or Recipient Name.
The Full Name is the field displayed to end users in the PageGate Client Interface.
The Recipient Name is the field used internally by all other PageGate Interfaces.