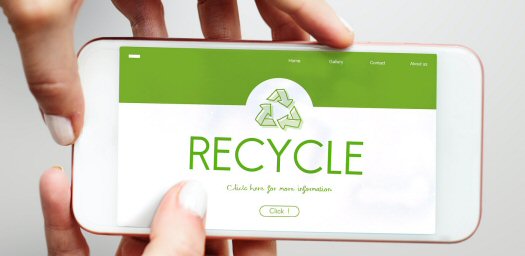 Considering the toxins in contained in cell phones it is important that they are properly disposed of after they have served their purpose. According to the Environmental Protection Agency (EPA), recycling cell phones and portable electronics preserves natural resources, conserves energy and reduces pollution.
When it is time to upgrade an outdated cell phone, or replace a damaged phone don't throw into the garbage. Want some quick cold hard cash, there are companies that will purchase your used or even in some cases broken cell phones, and electronics.
Staples
Staples will pay for unwanted devices including smartphones, tablets and laptops. If it is determined the device is too old or broken, Staples will recycle the device at no cost.
staples.com/sbd/cre/marketing/sustainability-center/recycling-services/
EcoATM
This is an interesting concept. The downside is you need to live in close proximity to an EcoATM location. Here is how it works, locate an EcoATM plug in your cell phone into the kiosk and the kiosk will evaluate the cell phone and tell you how much money they are willing to pay for the phone. You then decide if you wish to proceed with the transaction.
ecoatm.com
Eco-Cell
Submit information and receive a free shipping label to Eco-Cell, when the phones arrive at Eco-Cell their value is determined. If the cell phone can be re-used they are resold and you will be sent a check for the wholesale value. If the cell phone is obsolete it is recycled and you are paid the recycle value. A check is sent check within 30-45 days.
eco-cell.com
Gazelle
Gazelle will provide you a price quote for your used cell phone, you then ship it free of charge. After receipt, they will send payment via an Amazon Gift Card, Paypal or a Check.
gazelle.com/trade-in
SellCell
Simply enter the brand and model of your cell phone to determine the value. SellCell will offer a trade or offer to pay you for the value of the cell phone. Then ship the cell phone with the free shipping label, and wait for the check to arrive.
sellcell.com
Amazon
Amazon's Trade-In Program allows customers to receive an Amazon.com gift card in exchange for thousands of eligible items including Amazon Devices, video games, and more. Once the item is received, it is appraised, you will receive an e-mail notification within 2 business days informing you whether your items were accepted or rejected. The status of your trade-in can be viewed in your Amazon Trade-In Account at anytime. When submitting a trade-in, customers will print a free pre-paid shipping label to send Amazon the items. If a trade-in item is not accepted and is returned, there is no cost for return shipping.
Ebay
Has a unique twist they allow you to cell your electronics device to benefit a charity. Donate 10% or more and your item will feature an attention-grabbing charity ribbon—it may even be listed in the Charity Shop.
ebayforcharity.org/get-involved/selling-for-a-charity/
Trade
Many manufacturers and/or wireless carriers allow you to trade your old devices in toward a new device. Do a little research contact your wireless service provider or the manufacturer of your cell phone to see what options they offer.
Apple
Apple alows you to trade old devices in toward a your next purchase or you can get an Apple Store Gift Card for future purchases. The device can be traded in-store or online. The price you receive will depend on the device, model, and condition. Apple will provide a trade-in estimate so that you can make an informed decision. The entire process of inspecting the device takes 2-3 weeks.
apple.com/shop/trade-in
AT&T
Select your device model and answer a few questions to receive your trade-in quote. Mail the device in with a prepaid shipping label, once received you will receive an AT&T Promotional card.
tradein.att.com/#/start-a-trade/discover-device-value
Sprint
Sprint will provide you a credit toward new or future devices when you trade in old or broken devices.
secure.sprintbuyback.com/bbt/
Verizon
Verizon will provide a Verizon Wireless gift card or a paypal account credit. Choose your cell phone model, and mail in the device with a prepaid shipping label, after the device is evaluated you will recieve the determined value.
verizonwireless.com/od/trade-in/#/
When it is time to upgrade an outdated cell phone, or replace a damaged phone don't throw into the garbage. You have options! Whether you opt to recycle, donate, trade or sell your old cell phone it is recommended that you take the appropriate steps so that it does not contribute to the deterioration of the environemnt.

Article Date: May 5, 2020