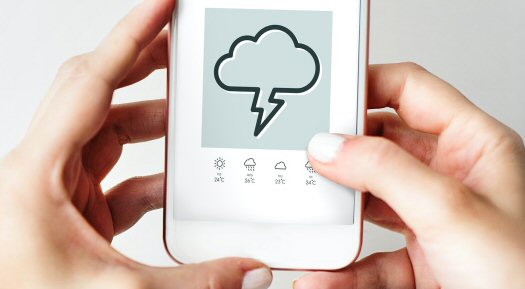 Natural disasters are becoming common place and often occur with very little warning. SMS and text messaging are instrumental in getting the word out quickly when natural disasters occur. Text messaging plays an important role in crisis management from government agencies ability to send notifications or warnings to assisting individuals in determining appropriate evacuation routes and in providing instruction on available shelters.
Wireless Emergency Alerts (WEA) launched in the United States in 2012. The WEA system is a public safety system that allows individuals who own certain wireless phones and other enabled mobile devices to receive geographically-targeted, text messages alerting them of imminent threats to safety in their geographical area. Almost all modern cellular phones are capable of receiving the wireless emergency alerts. National, state or local government authorities in the US may send alerts regarding public safety – such as evacuation orders or shelter-in-place orders due to severe weather, a terrorist threat or a chemical spill using the WEA system.
Wireless Emergency Alerts - https://www.weather.gov/wrn/wea or https://www.fcc.gov/consumers/guides/wireless-emergency-alerts-wea
Tornados
The Red Cross has a Tornado Application that will send alerts and warnings for specific geographical areas, warning of a potential tornado threat in the area. The Tornado application allows you to monitor any number of geographical locations for tornado warnings and alerts. The phone will emit an audible alarm when the cell phone is in an area where there is a tornado or tornado warning.
Red Cross Tornado Alerts - https://redcrosschat.org/2013/04/11/how-to-set-an-alert-for-tornado-warnings-on-your-phone/

Fires
Forest fires are not new, and sadly dry winds can shift and spread the fire quickly in many western states. Having the ability to quickly send and receive alerts and warnings of evacuations and road closures is critical. Many individuals today no longer have a home landline, so it can be a challenge to reach a large number of individuals in a specific geographical area in a short amount of time. The solution is sending text messages to cell phones of residents in the affected area.
Many State agencies and local fire departments have opt-in wireless notification systems. Check your local fire department's website to determine if there is an opt-in notification system that will send text alerts or email notifications should the fire conditions in your area change quickly.
Fire Alerts / Evacuations - https://www.fcc.gov/consumers/guides/wireless-emergency-alerts-wea
Floods
Devastating flooding can often occur quickly with very little warning, whether it is a levy breach or a flash flood in a drought stricken area, notifying people in the immediate affected area is imperative. Individuals caught unaware during a flood can become trapped in their homes or worse. Early notification systems are very important. In the US the WEA system will notifiy individuals of flash floods if they are in the afflicted area. Any enabled cell phone in the area will receive a notification regrdless of whether the phone is registered with a number in the region where the flooding is occurring.

Many other countries that are prone to monsoons or severe flooding have government sponsored text notification systems in place to warn of evacuations. Check for government alerts to determine if you need to register when residing or visiting a foreign country.
Hurricanes / Typhoons
In recent years the technology that monitors for hurricanes and typhoons has become significantly more advanced. Today's modeling systems are more able to accurately predict a storm's path and provide residents early warnings so that they can properly prepare. That said, even with all the advancements, a storm can still shift course with very little notice. A text messaging storm notification system is still needed. In the US as with floods the WEA will send out critical weather alerts. Additionally many local news stations have warning systems residents can opt-in to receive. Check with local news stations and sign-up to receive specific weather alerts.
Tsunamis / Tidal Waves
Tsunamis can devastate large coastal areas and they can be very challenging to detect. Warning centers use forecast models, buoys that detect wave heights, and seismic activity reports to predict the likelihood of a tsunami. In many cases, when a tsunami originates close to a coastline, there is very little time for warning centers to issue a forecast warning, so individuals should recognize natural warnings and be prepared to respond appropriately.
The National Tsunami Warning Center (NTWC) serves the continental United States, Alaska and Canada. The Pacific Tsunami Warning Center (PTWC) directly serves the Hawaiian Islands, the U.S. Pacific and Caribbean territories, and the British Virgin Islands.
Tsunami Warning Centers https://tsunami.gov
Third party Tsunami warning centers also monitor seismic activity, earthquakes and from the data attempt to predict tusunamis. Subscribers can monitor up to five different geographical locations for potential tsunamis. http://www.sms-tsunami-warning.com/

Blizzards
Unlike many other natural disasters, meteorologists have gotten much better at predicting snow storms and blizzards. Notifications of impending storms, cancellations and closures are still appreciated by residents. Most local news stations offer weather alerts for snow storms and blizzards, check local news station's websites for options to subscribe to storm warnings and school or business closures.

Volcanic Eruptions / Warnings
Some volcanos are notoriously unstable. Scientists monitor volcanic activity, and satellite sensors in order to predict the likely outcomes for volcanic activity. Alerts and notifications can be issued for both increasing and decreasing volcanic activity and hazards.
USGS - https://volcanoes.usgs.gov/vhp/notifications.html

EarthQuakes
While earthquakes occur with very little or no warning. Scientist do monitor geoseismic sensors and can sometimes indicate the likelihood of an earthquake occurring in a specified region. Although it is NOT possible to predict the time and the location of an earthquake, it's crucial to make this information available in the quickest manner possible.
USGS - https://earthquake.usgs.gov/ens/

Weather Warnings - Third Party Applications
There are a number of third party services and websites that allow individuals to sign up for notifications about natural disasters. Most non-government sponsored alerts require that you opt-in and sign-up to receive notifications, some are free of charge while others are fee based.
List of 3rd Party Weather Alert Systems - https://www.weather.gov/subscribe
There are also a number of cell phone applications available in the Google Play or iTunes Store, that will send alerts based on weather conditions or defined specifications.
SMS and text messages can save lives in a natural disaster. There are many different ways to get SMS or text message warnings for natural disasters, some require that you opt-in, while others rely on updated technology to blanket a specific geographical area. Be sure that you take the appropriate steps to receive any notifications or alerts in your area, whether it is your residence or you are visiting it is important to stay informed.

Article Date: August 6, 2020