The PageGate GUI Client is used for scheduling and sending messages to the PageGate Server's list of Recipients and Groups. It shows a list of available Recipients and Groups and is highly customizable. The PageGate Client can be run from the PageGate server or on any workstation that has network access to the PageGate server's Database.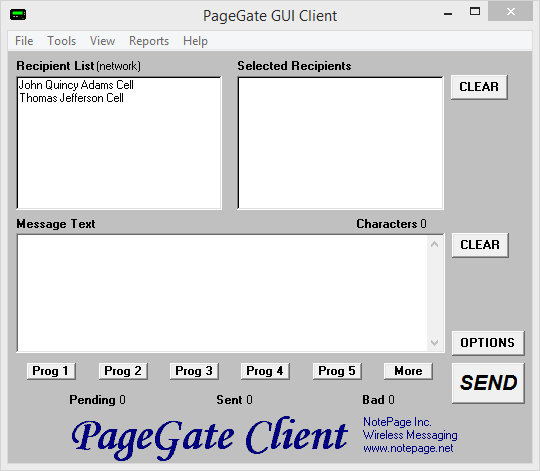 Recipients can be moved to the Selected Recipients column simply by clicking on their name. The Message Text field is where you type the message you want to send. Along the bottom, you'll notice the Prog 1 through Prog 5 and More buttons, those are preset messages and can be configured many ways. Click here for information on what the preset messages are and how to configure them.
• File
This section provides access to the PageGate Client's configuration and settings.
This section provides methods of filtering the recipient list and provides a spell-check function.
•View
This section provides the ability to view and review traffic in the pending queue or sent from this workstation.
This section allows you to run reports on messages sent from any GUI Client that shares a station number with this Client.
•Help
This section provides basic help and assistance for using the PageGate Client.